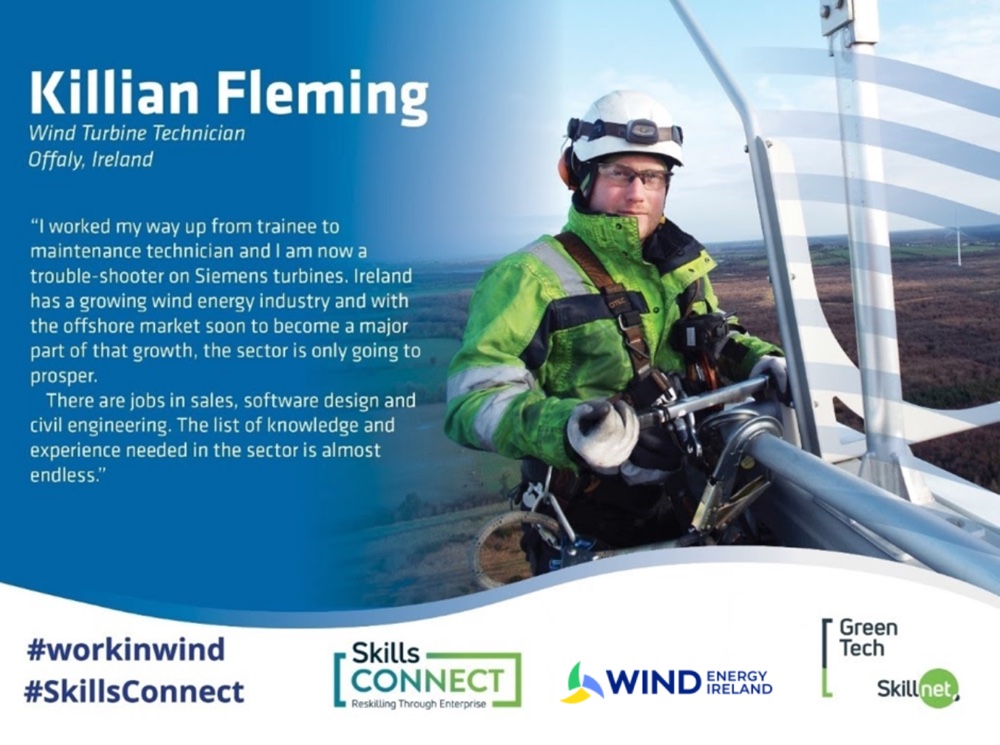 The Green Tech Skillnet, in partnership with Skillnet Ireland, are proud to present our free training and work placement programme designed to upskill Ireland's ambitious jobseekers to join the green revolution.

Wind energy is at the heart of the Climate Action Plan's ambition to cut CO2 emissions in the electricity sector by two-thirds and increase the renewable energy share of electricity demand to 70 per cent by 2030 from its current 35 per cent.

The increase in onshore and offshore wind energy development out to 2030 is going to see significant increases in the number of field service technicians and other key operational staff needing to be deployed to facilitate this growth. Number of onshore wind energy field service technicians working in the ROI. is expected to more than double by 2030.
The sector is already experiencing significant skills shortages in this area and significant numbers of these roles being filled by skilled technicians or teams travelling from other jurisdictions to complete works.
This training and work-placement programme will train you to become a fully certified Wind Turbine Technician. The following are pre-requisites for successful candidates:
Electrical/mechanical/engineering background
Physical stamina. Service technicians must be able to climb high, often with tools and equipment, to reach the turbines.
Physical strength. Technicians must lift and climb with heavy equipment and parts and tools.
Troubleshooting skills. Wind Turbine Technicians must diagnose and repair problems. When a turbine stops generating electricity, technicians must determine the cause and then make the necessary repairs.
Unafraid of heights and confined spaces. Service technicians often must repair turbines that are at least 260 feet (80m) high. In addition, technicians must work in confined spaces in order to access mechanical components of the turbine.
Willing to travel. Depending on your host company you must be willing to travel on regular basis, including nights away from home
The administrative side of the job is also important, you must ensure activities are documented. Therefore, good written communication skills and computer literacy are required.
Induction
Turbine Awareness Training
CV Development and Competency Interviews
Resilience and Effective Communication in the Workplace
Basic Microsoft Skills and Report Writing

GWO Basic Safety Training (BST)
Wind Turbine Safety Rules (WTSR) - Safety On

GWO Basic Technical Training (BTT)
GWO Advanced Rescue, Hub, Spinner and Inside Blade Rescue (ART-H)

Slinger Signaller
Workshop with Technicians and Industry Experts

Work Placement with Host Companies
To apply for this programme, please submit a CV and Cover Letter which outlines why you think you would be well suited to a career as a wind turbine technician in the form below.
Further details of the eligibility criteria can be found on the on the
eligibility page
.
Individuals in receipt of a Job-seekers payment or other payment (listed above) must receive prior approval from INTREO Offices/DEASP Scheme Areas to participate on programmes delivered by training networks which exceeds 20 days in duration. For example, Disability Allowance recipients should contact the Disability Allowance Section within DEASP.