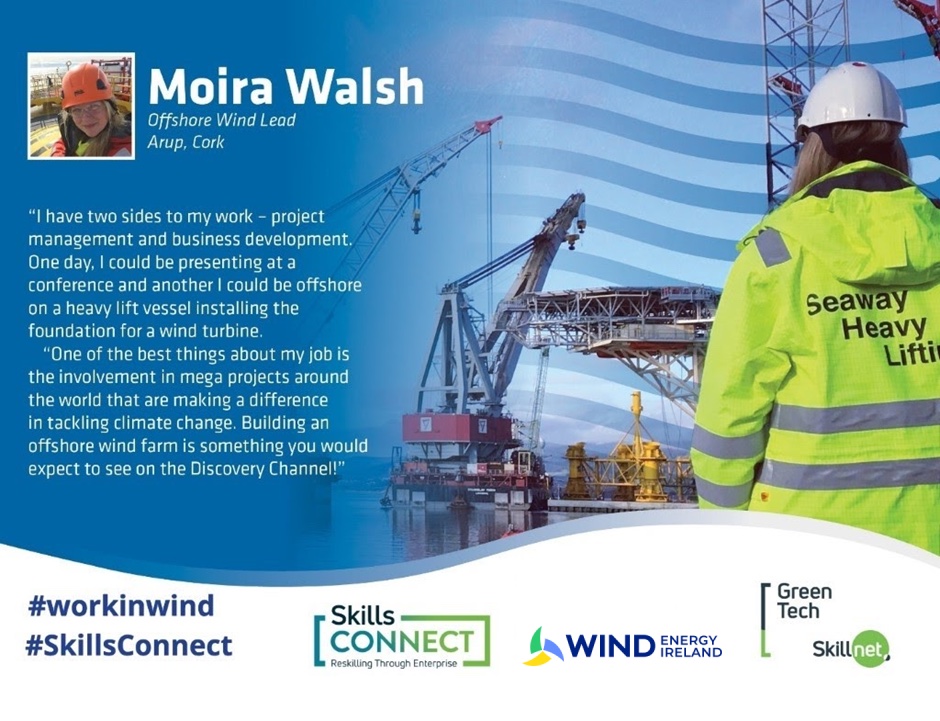 The wind energy employment sector is very diverse with employees from various educational and career backgrounds working in sectors such as legal and consultancy support, market analysis and trading, project management and finance, research, education, technical, operational and maintenance support.

This course is intended to help people who are looking to learn about the wind energy industry in general as a foundation to prepare participants for relevant work placements and projects in the wind energy sector.

Over the next ten years Ireland will connect a new generation of offshore wind farms, providing enormous amounts of clean energy to power homes, farms and businesses. This will accelerate the ongoing decline in CO2 emissions from the electricity sector and drastically cut Ireland's bill for foreign fossil fuel imports.

This training and work-placement programme will train you to work in Renewable Policy, Renewable Planning, Grid Transmission and Energy Market Trading, Community Engagement and more.
Industry Introduction to Onshore and Offshore Wind
Lifecycle of a Wind Farm
CV Development and Competency Interviews
Workplace Resilience, Communication and Interpersonal Effectiveness
Overview of Biodiversity and Environmental Management
Overview of Planning Systems for Onshore and Offshore in Ireland

Asset Management in the Wind Sector: A Foundation Course
Overview of Electricity Grid Policy in Ireland
Overview of Electricity Market Policy in Ireland
Overview of Planning Systems for Onshore and Offshore in Ireland
Overview of Community Engagement, Communications, and Public Affairs in Ireland

Overview of Offshore Wind
Introduction to Sustainability

Workshop with Industry Experts

Work Placement with Host Companies
To apply for this programme, please submit a CV and Cover Letter which outlines why you think you would be well suited to a career in renewable energy in the form below.
Further details of the eligibility criteria can be found on the on the 
eligibility page
.
Individuals in receipt of a Job-seekers payment or other payment (listed above) must receive prior approval from INTREO Offices/DEASP Scheme Areas to participate on programmes delivered by training networks which exceeds 20 days in duration. For example, Disability Allowance recipients should contact the Disability Allowance Section within DEASP.